Lewis Carroll grew up to become the author Alice in Wonderland. When he was 30, he and his friend rowed the 3 young daughters of Henry Lidell five miles down the River thames.  On the way, he made up a story about a bored girl named Alice who went on adventures.  He also wrote the beloved nonsense poem, Jabberwocky, and the sequel Alice Through the Looking Glass.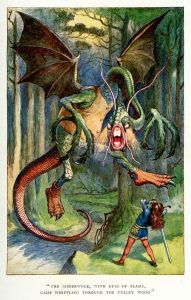 There is an animated Disney movie – Alice in Wonderland. Write stories about any Disney movies you have seen – what, where, when, your impressions, your favourites. 
Three sisters are in the rowboat. Write stories of fun with your siblings – both sisters and brothers.
There are 166 words in the poem Jabberwocky. Write the poem out as many times as you need to.
Share this post on Facebook